Welcome to Waddy Lodge on fabulous Fraser Island
Waddy Lodge offers unique holiday accommodation at Waddy Point on Fraser Island.
Fraser Island is a world heritage listed island off the coast of Queensland, Australia.  The island offers spectacular natural beauty, as well as some of the best fishing and 4WD adventures in eastern Australia.
Waddy Lodge occupies a unique location at Waddy Point, overlooking the beach and away from the bustle of the 'township' areas.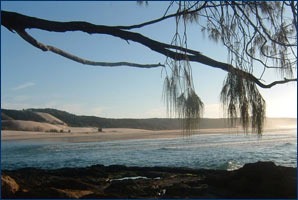 The accommodation at Waddy Lodge includes two comfortable duplex units with views overlooking the beach.
There is no better way to escape from a busy life than to kick back, relax and take in the beautiful surrounds, or to spend your days fishing and sightseeing.
This website should answer all of your questions about this remarkable location but if you have any further questions please don't hesitate to contact us, we are here to help.